A sexualidade como campo de batalha no Twitter: grupos religiosos e movimento feminista e LGBT na luta em torno dos direitos sexuais
Palabras clave:
ciberactivismo, derechos sexuales, neopentecostalismo
Resumen
A partir de sua estruturação na Web 2.0, as tecnologias de comunicação digital tem aprimorado e difundido uma agência algorítmica que estimula e administra socialidades digitais de forma cada vez mais ampla e disseminada às inúmeras relações sociais e, entre elas, as que constituem a dimensão da política. Nosso objetivo nesse artigo será apresentar algumas ideias acerca do modo como as plataformas digitais fornecem uma moldura a embates políticos para, a partir daí, examinar, em dois momentos específicos, as estratégias que opuseram na Internet grupos religiosos e movimentos feministas e LGBT em lutas políticas ocorridas no Brasil. Estas lutas tiveram por objeto ações no legislativo e, em certa medida no judiciário, articulando as dimensões online e offline, e tiveram como foco temas relativos a corpo, sexualidade e religiosidade.

Palavras-chave: Ciberativismo, Direitos Sexuais, Neopentecostalismo


Abstract Sexuality as a battlefield in Twitter: religious groups, feminist movement and LGBT in the struggle for sexual rights 
Since its structuring in Web 2.0, digital communication technologies have developed and spread an algorithmic agency that enhances and manages digital socialities in an increasingly broad and disseminated way to countless social relations and, among them, political struggles. The purpose of this article is to present some ideas about how digital platforms provide a framework for political struggles. We will examine the strategies put into action, in two specific moments of political conflict in Brazil, in the clashes between religious groups and feminist and LGBT movements on the Internet. These struggles have involved actions in the legislative and, to a certain extent, in the judiciary, articulating the online and offline dimensions, and focusing on topics related to body, sexuality and religiosity.

Key words: Cyberactivism, sexual rights, neopentecostalism
A partir de su estructuración en la Web 2.0, las tecnologías de comunicación digital han difundido una agencia algorítmica que estimula y administra socialidades digitales de forma cada vez más amplia y disseminada en las innumerables relaciones sociales y entre ellas las luchas políticas. Nuestro objetivo en este artículo es presentar algunas ideas acerca de cómo las plataformas digitales proporcionan un marco para los conflictos políticos. Examinaremos las estrategias puestas en acción, en dos momentos específicos de las luchas políticas ocurridas en Brasil, en los conflictos entre grupos religiosos y movimientos feministas y LGBT en Internet. Estas luchas han involucrado acciones en el ámbito legislativo y, en cierta medida en el poder judicial, lo que configura una articulación de las dimensiones online y offline, y tuvieron como foco temas relativos a cuerpo, sexualidad y religiosidad.
Citas
Anderson, Benedict (1983). Imagined communities: reflections on the origin and spread of nationalism. New York, Verso.
Araujo, Rafael de Paula Aguiar, Penteado Claudio Luis de Camargo e SantosMarcelo Burgos Pimentel dos (2011). "Informação e contra-informação: o papel dos blogs no debate político das eleições presidenciais de 2010", IV Congresso Latino Americano de Opinião Pública da WAPOR. Belo Horizonte – Brasil.
Bolaño, César Ricardo Siqueira e Britoos, Valério Cruz (2010). "Blogosfera, espaço público e campo jornalístico: o caso das eleições presidenciais brasileiras de 2006", Intercom – Revista Brasileira de Ciências da Comunicação. São Paulo, v.33, n.1, p. 237-256, jan./jun.
Boyd, Danah, Golder, Scott and Lotan, Gilad (2010). "Tweet, Tweet, Retweet: Conversational Aspects of Retweeting on Twitter," HICSS-43. IEEE: Kauai, HI, January 6.
Bourdieu, Pierre (1998). "Descrever e Prescrever" e "Ritos de instituição" em A Economia das Trocas Lingüísticas. SP, Edusp.
Durkheim, Emile(1989). As formas elementares da vida religiosa: o sistema totêmico na Austrália. São Paulo, Paulinas.
Luna, Naara (2010). "Aborto e células-tronco embrionárias na campanha da fraternidade: ciência e ética no ensino da Igreja", Revista Brasilera Ciencias Sociais [online]. vol.25, n.74 [cited 2013-09-16], pp. 91-105.
Miller, Daniel; Slater, Don (2004). "Etnografia on e off-line: cibercafés em Trinidad", Horizontes Antropológicos. Porto Alegre: v. 1, ano 10, n. 21, p. 41-65, jan./jun.
Miller, Daniel; Slater, Don (2000). The internet: an ethnographic approach. Oxford, Berg. .
Palmeir, Moacir (2001). "Política e tempo: nota exploratória". Em: Peirano Maritza, (Org.). O dito e o feito: ensaios de antropologia dos rituais. Rio de Janeiro, Relume-Dumará/NuAP. p. 171-177.
Ramos, Jair de Souza . (2012). "Toma que o aborto é teu: a politização do aborto em jornais e na web durante a campanha presidencial de 2010", Revista Brasileira de Ciência Politica, v. 7, p. 55-82.
Weber, Max (2004). "Conceitos sociológicos fundamentais". Economia e Sociedade. Brasília, Ed. da UNB, Vol. I.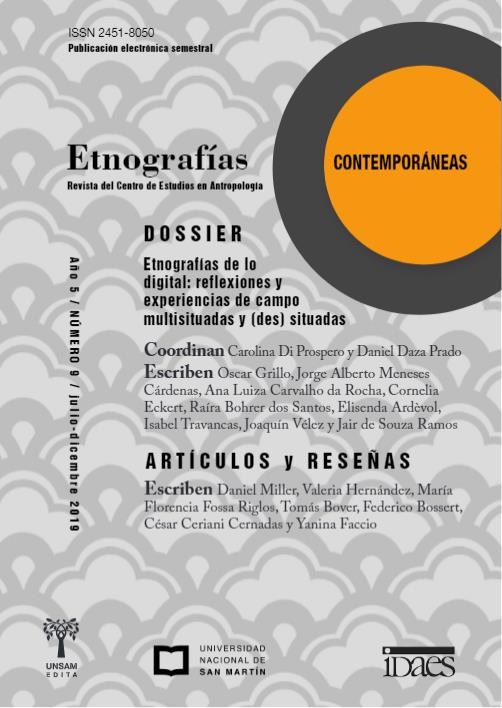 Publicado
2021-02-28 — Actualizado el 2019-11-29