El lujo y sus malestares en la China contemporánea
Palabras clave:
lujo, consumo, riqueza, China
Resumen
Basado en el trabajo de campo en curso con un grupo de empresarios acaudalados que antes eran ávidos consumidores de marcas de lujo, este trabajo examina las críticas emergentes al consumo de lujo en China urbana. Comienzo con una visión general de las principales funciones que las marcas de lujo han jugado durante las últimas dos décadas como signos de pertenencia a redes sociales exclusivas en China y mediadoras en las economías del don asociadas a estas redes. Luego presto atención a los cambios más recientes provocados por varios factores: las campañas de lucha contra la corrupción, la aversión nacionalista al lujo "extranjero", la creciente "vulgaridad" de las marcas de lujo en círculos sociales de elite, y el aumento de la "inflación" en la economía del regalo. Estos factores han comenzado a socavar los significados y las funciones previas del lujo, y para muchos chinos ricos, las marcas de lujo ofrecen ahora algo muy diferente del "reconocimiento mundial" que una vez prometieron. Las contradicciones inherentes en el consumo de lujo, argumento, están presionando a los nuevos ricos chinos hacia formas más austeras de distinción, incluyendo la devoción religiosa y otras formas tradicionales de auto-cultivación espiritual y corporal.
Citas
Bourdieu, Pierre (1984) [1979]. Distinction: A Social Critique of the Judgment of Taste. Cambridge MA, Harvard University Press.
–––(1987) [1979]. "The Forms of Capital", en: Handbook of Theory and Research for the Sociology of Education. New York, Greenwood,pp. 241- 258.
Buckley, Christopher (1999). "How a Revolution Becomes a Dinner Party: Stratification, Mobility, and the New Rich in Urban China", en: Culture and Privilege in Capitalist Asia. London, Routledge.
Cao, Nanlai (2010). Constructing China's Jerusalem: Christians, Power, and Place in Contemporary Wenzhou. Stanford, Stanford University Press.
Hu, Hsien Chin (1944)."The Chinese Concepts of 'Face'", American Anthropologist New Series, Vol. 46, Issue 1, pp. 45-64.
Jiu Yue (2004). "Yi Ben Zazhi He Yige Jieceng (A Magazine and a Strata)", en: Toudengcang (First Class) 2: Preface. Chengdu, China.
Keane, Webb (1997). Signs of Recognition: Powers and Hazards of Representation in an Indonesian Society. Berkeley, University of California Press.
Kipnis, Andrew (1995). "Face: An Adaptable Discourse of Social Surfaces", Positions3, Nº 1, pp. 119-148.
Lamont, Michele (1992). Money, Morals, & Manners: The Culture of the French and American Upper-Middle Class. Chicago, University of Chicago Press.
McCracken, Grant (1988). Culture and Consumption: New Approaches to the Symbolic Character of Consumer Goods and Activities. Bloomington, University of Indiana Press.
Osburg, John (2013). Anxious Wealth: Money and Morality Among China's New Rich. Stanford, Stanford University Press.
Pieke, Frank (1995). "Bureaucracy, Friends, and Money: The Growth of Capital Socialism in China", Comparative Study of Society and History Nº 37, pp. 494-518.
Smart, Alan (1993). "Gifts, Bribes, and Guanxi: A Reconsideration of Bourdieu's Social Capital", Cultural Anthropology, Vol. 8, Nº 3, pp. 388-408.
Shui Shui (2004). "Nanshi Yipin (Men's Taste In Clothing)", Toudengcang (First Class) 10, pp. 82-86. Chengdu, China.
Wank, David (1996). "The Institutional Process of Market Clientelism: Guanxi and Private Business in a South China City", The China Quarterly, Vol. 147, pp. 820-838.
Wank, David (1999). Commodifying Communism: Business, Trust, and Politics in a Chinese City. New York, Cambridge University Press.
Yi Hui (2004). "Toudengcang, Huozhe Shouxi Fengdu (First Class, Or Elite Style)", en: Toudengcang (First Class) 1: Preface. Chengdu, China.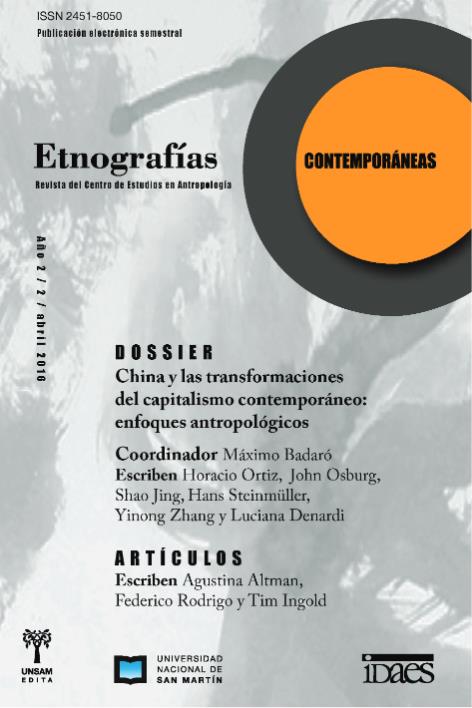 Cómo citar
Osburg, J. (2016). El lujo y sus malestares en la China contemporánea. Etnografías Contemporáneas, 2(2). Recuperado a partir de http://revistasacademicas.unsam.edu.ar/index.php/etnocontemp/article/view/402
Sección
Dossier: China y las transformaciones del capitalismo contemporáneo