Hegel: Habit, Custom, and Government
Palabras clave:
Hegel, hábito, costumbre, gobierno
Resumen
El propósito de este artículo es comprender la relación que existe, en la filosofía de Hegel, entre su concepción del "hábito" y la de "el mundo del derecho", en tanto ambas son definidas por Hegel como "segunda naturaleza". En primer lugar, nos centraremos en la concepción hegeliana del hábito, tal y como fue formulada en su antropología (la primera sección de la filosofía del espíritu subjetivo). A continuación, expondremos la conexión entre el concepto de hábito y el de costumbre, tal y como fue formulado en la filosofía del derecho. Finalmente, sobre esta base, ofreceremos un análisis de algunas de las estructuras fundamentales de la concepción hegeliana del Estado como "realidad efectiva de la idea ética".
Abstract
The aim of this paper is to understand the relationship that exists, in Hegel's philosophy, between his conception of "habit" and that of "the world of right", insofar as both are defined by Hegel as "second nature". First of all, we will focus on the Hegelian conception of habit, as it is formulated in his anthropology (first section of the philosophy of subjective spirit). Secondly, we will show the connection between the concept of habit and that of custom, as it is formulated in the philosophy of right. Finally, on this basis we will provide an insight into some of the fundamental structures of the Hegelian conception of the State as the "actuality of the ethical idea".
Keywords: Hegel, Habit, Custom, Government.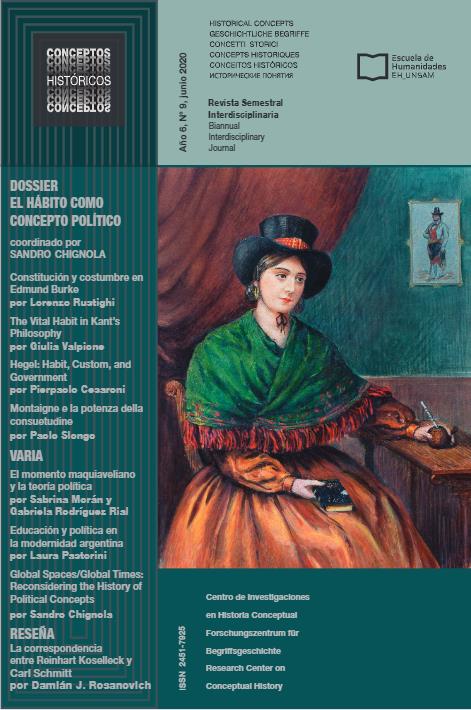 Descargas