The Vital Habit in Kant's Philosophy
Palabras clave:
Kant, hábitos, vida, filosofía política moderna, libertad
Resumen
En este artículo me centro en el concepto de hábito en la filosofía de Kant. En primer lugar, me enfoco en las críticas que él delinea contra Gewohnheit en su filosofía epistemológica y moral. En particular, el hábito es visto como ausencia de libertad moral. Esta conclusión es bastante diferente a la posición expresada por Kant en su Antropología en sentido pragmático y en la última parte de El conflicto de las facultades. Tras profundizar sobre los diferentes términos referidos al campo conceptual del hábito, me concentro en la relación entre Gewohnheit y deseo: de hecho, Kant reconoció que el hábito no es una mera repetición de un acto, sino, más precisamente, es el deseo de repetición. Es por esto que no está estrictamente ligado al mundo determinista y no se refiere a máquinas: solo los seres vivos podrían tener hábitos. De esta forma, es posible comprender su rol en el tema de la salud: en la reflexión sobre dietética, el hábito es particularmente útil. La última parte del artículo está consagrada a la nueva perspectiva en la filosofía política kantiana abierta por esta visión positiva de este concepto.
Abstract
In this article I focus on the concept of habit in Kant's philosophy. First of all, I concentrate on the criticisms he delineates against Gewohnheit in his epistemological and moral philosophy. In particular, habit is seen as absence of moral freedom. This conclusion is pretty different from Kant's position expressed in his Anthropology From the Pragmatic Point of View and in the last part of the Conflict of the Faculties. After a deep insight on the different terms referred to the conceptual field of habit, I focus on the relation between Gewohnheit and desire: in fact, Kant recognized that habit is not the mere repetition of an act, but more precisely it is the desire of repetition. That is why it is not strictly bonded to the deterministic world and it does not refer to machines: only the living beings may have habits. This way, it is possible to understand its role within the theme of health: in the reflections on dietetics, habit is particularly useful. The last part of the article is devoted to the new perspective on Kantian political philosophy opened by this positive view on this concept.
Keywords: Kant, Habits, Life, Modern Political Philosophy, Freedom.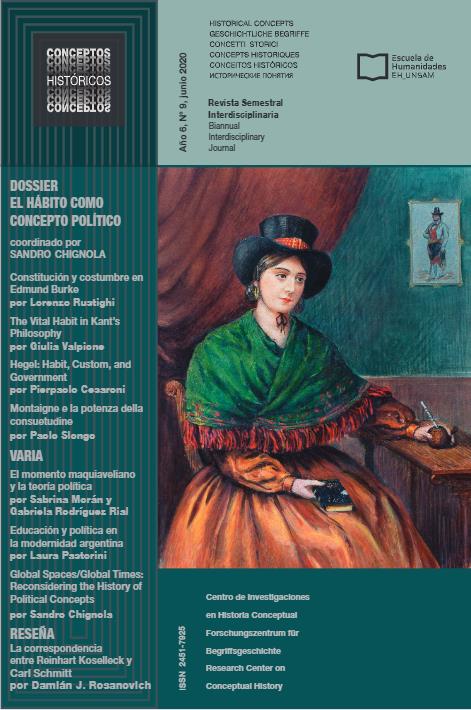 Descargas